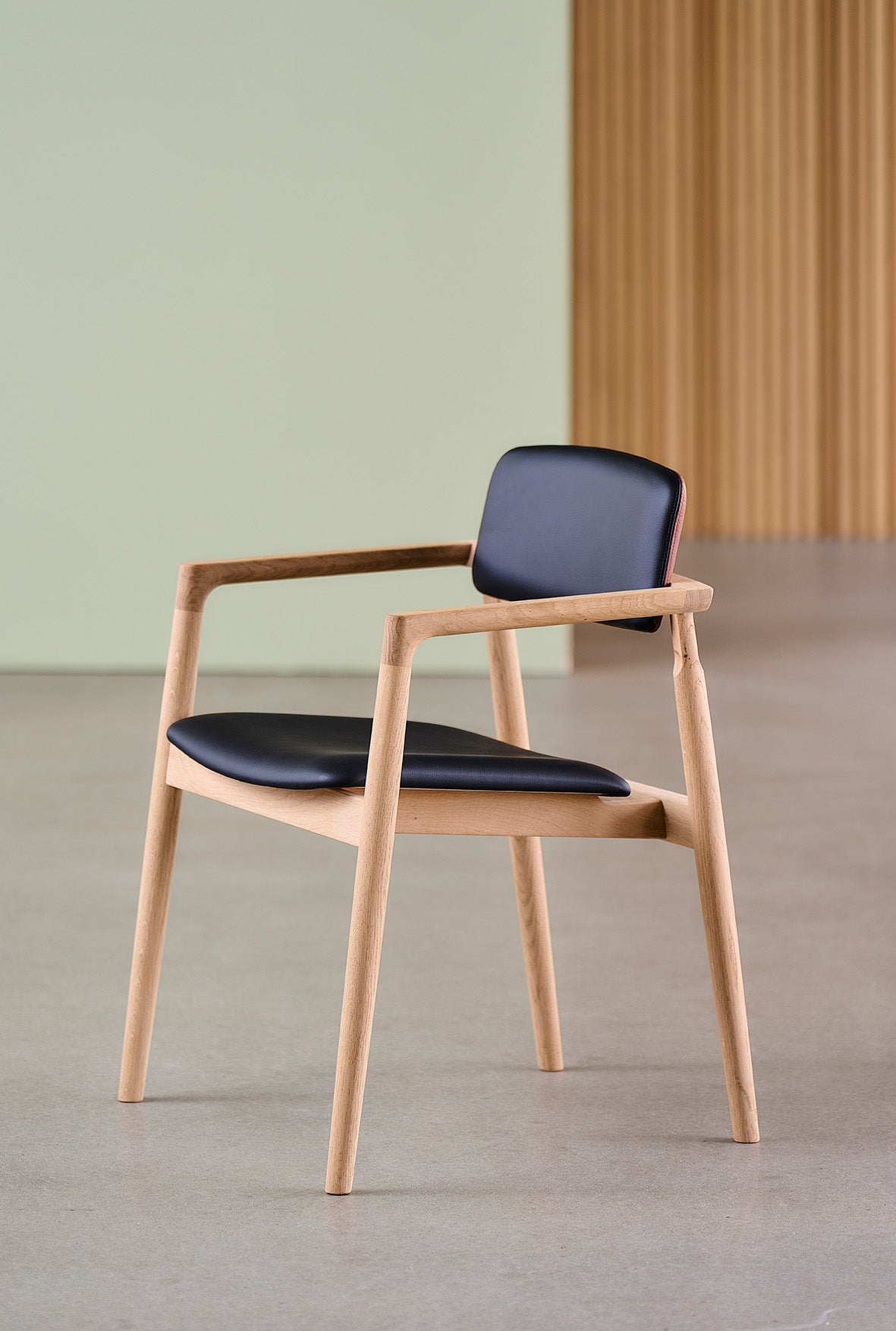 Dining room chairs with a sea of ​​possibilities
At Farstrup, we have several different classic chairs, both in terms of design and comfort. You can therefore explore and combine the chairs so that they fit right in with your personal style.
Classic chairs with armrests for maximum comfort
Do you not want to compromise on your seating comfort? Then you should consider buying a classic chair with armrests. Armrests provide a comfortable and pleasant feeling that makes you want to sit a little longer at the table. At Farstrup, we go the extra mile with the design of both the armrests and the chair, which gives an exclusive feeling when you sit.
What you should be aware of when looking for classic chairs with armrests is that the armrests make the chair a bit wider. It will therefore quite naturally require more space in the room and around the dining table.
A classic chair with armrests has the obvious advantage of providing the final push for maximum seating comfort. A chair with armrests is clearly preferable because you will achieve a much better sitting experience.
Armrests on the classic chairs are not only an extra comfortable feature. Chairs with armrests around the dining table also give a different visual expression. Many people often think about optimizing both comfort and design in the home, and here it is the details that count. Armrests on the chairs are absolutely a lovely detail both in terms of function, comfort and design.
Do not compromise with your classic chairs
When you need to find your new chairs, it is important to choose some high-quality chairs in a timeless design. A dining chair is not just an ordinary chair, but an important seating area in the home for both you and your guests.
Choose a dining chair that is durable and of high quality, fits in with your other decor and, not least, has a high level of comfort. Farstrup's classic chairs can be used in all rooms in the home due to the durable material and attractive design - then you are guaranteed dining chairs for many years to come.
In many homes, the dining table is the place where the family gathers in a busy everyday life. It is not only at the breakfast and dinner table, but also for cozy moments and hour-long games and conversations. It is therefore important to have dining chairs with high comfort. At Farstrup, we produce all our furniture ourselves at our Danish factory in Søndersø. We therefore ensure you chairs of high quality, which can be adapted to just the size you want.
Classic chairs that match the dining room
Which dining chair is best for you is a matter of taste that only you can answer for yourself. Visit one of our dealers and try out our dining chairs - then you are sure to choose the right one. It rarely happens that you think about how important it is to have classic chairs with good comfort. It is only when you sit in one that does not have good comfort that you think about it. You do many different things at the dining table and precisely for this reason, it is incredibly important to have chairs that are comfortable to sit on. It is also important that dining table chairs are made of a durable material, so that you can enjoy them for many years to come. Chairs from Farstrup Furniture have optimal sitting comfort, beautiful design and are incredibly durable.
Dining table chairs for all rooms
Despite the name, dining table chair, it does not have to be used only in the dining room. In fact, a nice and comfortable dining table chair can easily fit into the interior of the living room, the office, the entrance, the kitchen and all other rooms in the house. A dining table chair is a flexible chair that fits in most places. The most important thing is therefore to find the right chair that meets your requirements for comfort and design. See also our many stacking chairs , which can fit into both meeting rooms, canteens and living rooms.
Classic wooden dining table chairs
Wooden chairs are timeless and never go out of style. The wooden chair is a classic, whether you choose a light modern or a dark retro chair. A wooden dining table chair fits into any decor in any room. Just combine the color you want with upholstery, armrests, wood type, fabric or leather and much more. Good quality never goes out of fashion, and that's exactly what you get at Farstrup Furniture. Well-thought-out classic designs, durable material and good sitting comfort.
Stem chairs
If you are looking for a real classic that is both simple and stylish, you can take a look at our selection of stem chairs that fit into most homes. A stem chair fits just as well around the dining table as it fits into the rest of the home as an extra chair that can easily be pulled out and placed almost anywhere.
Dining table chairs
Our classic wooden classic chairs never go out of style. Regardless of whether you choose dark or light wood, you get a stylish and comfortable classic chair. Our dining chairs can be customized and combined as you wish - whether you want your chairs with or without armrests, fabric or leather upholstery or dark or light wood, you will never go wrong with our timeless dining chairs. Give your chairs extra comfort with well-shaped armrests that are hand sanded and provide the best sitting experience.