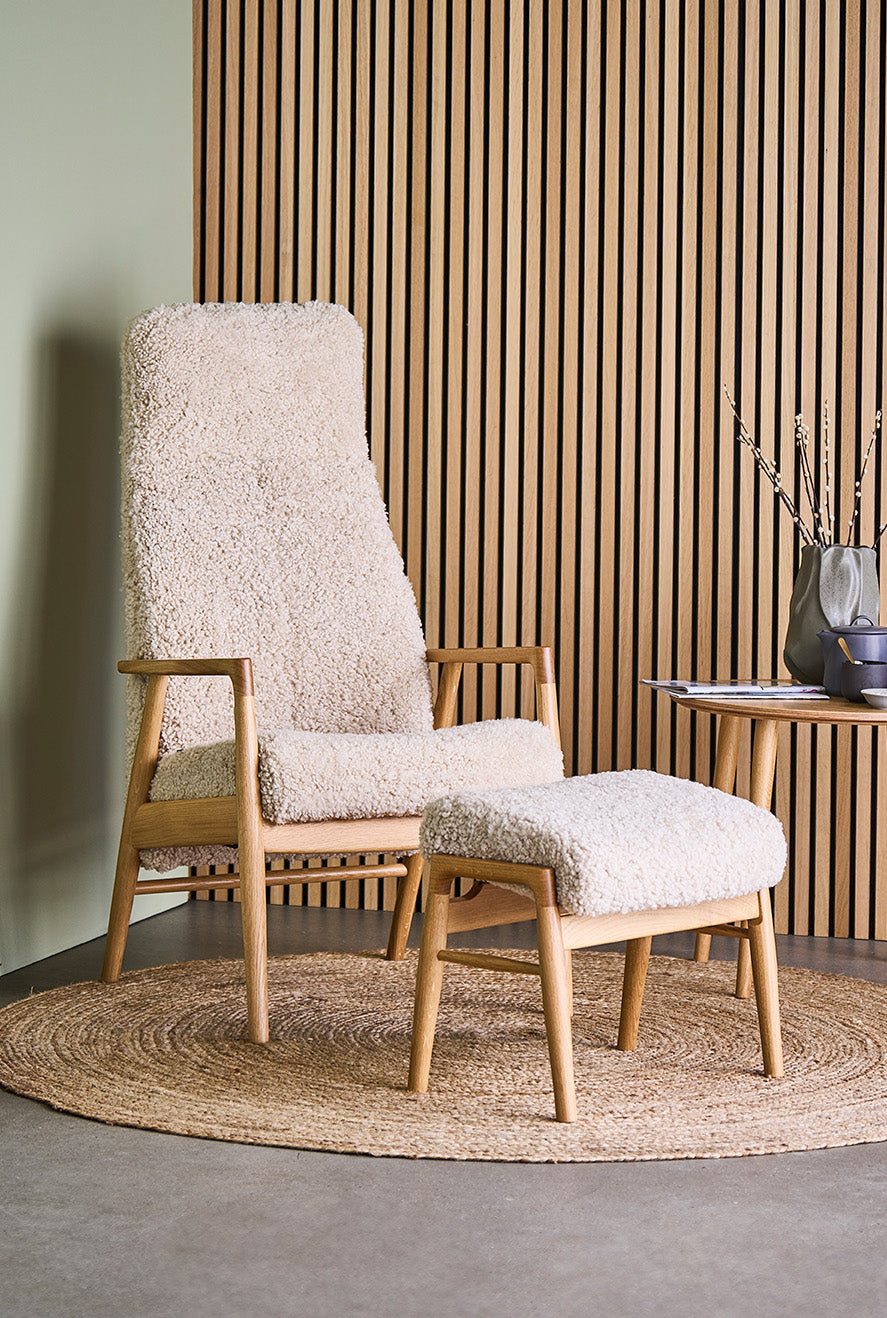 Recliners
The recliner is the most important chair in the home and is an indispensable piece of furniture in every home. A good recliner welcomes you home after a long day, and invites you to do everything from sitting down with a blanket to taking a nap on the long and cold days. If you need a more movable chair, we also have a large selection function chairs or electric recliners.
Are you in doubt about which recliner you should get? Read our guide to find the right armchair or a good recliner.
Maximum comfort with a Farstrup recliner
An recliner is not just another chair, but a chair that is special and a comfortable place for you to be. Recliners are there to cover a basic need – namely to sit down. Not everyone sits equally comfortably in different chairs, and it is therefore important that you choose the right chair with high comfort, which is specially made for you.
When you have to choose new recliners, there are a number of considerations you should make. In what context should it be used? Which chair to choose is individual from person to person: Should it represent the style of your living room, should it be a chair you should lie back in and take a rest, or should it be used to sit upright and read or do needlework? In addition, it is important to pay attention to the choice of material depending on whether it is to be in the middle of the living room, where children or grandchildren sit and relax with snacks, or whether it is intended as decoration for the living room and will have minimal wear.
Regardless of what needs you have for your recliners, Farstrup has a chair for you with maximum seating comfort, a nice design, a large selection of leather and fabric materials and, not least, a multitude of customization options. We have, for example, a leather recliner with stool and an recliner with a high back.
Ergonomic recliner
At Farstrup Furniture, we have a large selection of ergonomic recliners in Danish design. We build your recliner especially for you so that you get an ergonomically correct seating position. We can almost guarantee that you can find a chair that suits your taste and needs. Read more about how to sit ergonomically correctly here .
We have a large number of dealers with extensive knowledge of our recliners and armchairs, who are always happy to help you find the right chair that matches your taste and needs.
Lounge chairs and recliners in Danish design
A designer recliner fits into any living room and can always be found. A designer recliner with stool is a chair that is often chosen over the sofa - with good reason. Precisely for this reason, it does not matter which chair you choose. Farstrup Furniture has a wide selection of design classics and new design chairs. The possibilities are many, and when you buy a Farstrup recliner, you don't just get an aesthetically pleasing design chair. You get comfort and luxury beyond the ordinary in uncompromising quality, as is the case with all our furniture. Stacking chairs , canteen chairs, dining chairs and much more are available specially built for maximum comfort.
Recliners for the elderly - and for the young
A recliner is a broad term and covers a wide range of chair types, as can be seen on our selection. Our large selection of retirement chairs and recliners is aimed at both older and younger people who appreciate Danish design, Danish quality and sumptuous sitting comfort. All our furniture can be made according to your specific wishes, which is expressed in the form of customization options, color choices, upholstery, wood type and much more. We have a unique chair for all unique people.
Wide selection of retirement chairs
Our large selection of retirement chairs, reclining chairs and functional chairs means that you will definitely find a chair for the home that fits both your decor, but also your body shape and sitting position. All of our comfortable recliners have a multitude of customization options – both before you buy, but also when it is in the living room at home.
At Farstrup Furniture, we build some of the absolute best retirement chairs, all of which are handmade at our furniture factory in Denmark. Our chairs are known for being of the highest quality while being designed and built with an eye for comfort and functionality. With our chairs, you can adjust the backrest, seat height, seat depth and also choose a headrest and matching footstool for maximum comfort. We can offer both a recliner with stool, a high armchair with swivel base or an electric recliner.
Recliner in fabric or leather?
It is a matter of taste whether you want your chairs in fabric or leather. That is why all our furniture is available in both leather and fabric designs in many different colours.
Leather is usually perceived as an exclusive material - and it is also incredibly stylish. In addition to being exclusive, leather is also a practical material that is easy to clean. A damp cloth is often enough if the accident happens and spills either wet or dry on your leather recliner.
A recliner in quality textiles gives a "softer" feeling than an recliner in leather. Recliners in furnishing textiles do not require much maintenance, but they are also not quite as easy to clean as leather. It is therefore a good idea to give your armchair a textile impregnation.
Many customization options for your new recliner
You can put your own stamp on how your new recliner or armchair should look both visually and functionally. Regardless of which recliner you choose, you have the option of having it customized with, among other things, both cover and colour, size and which functions. For upholstery, you can choose between many different quality textiles and genuine leather in exactly the color you like.
Extra comfort with a footstool
Most people only relax properly when their legs are resting on a footstool. If this is also the case for you, then our reclining chairs with accompanying footstool are just right for you. A stool is multifunctional in the sense that it can be used for more than one purpose - and at the same time provides even better sitting comfort. In our range, all recliners are available with stools, so if you want the extra comfort, there are all options for it.
Swivel chairs
If you are looking for a comfortable swivel chair in which you can lean back, relax and enjoy the comfort with an accompanying footstool, then we have a large selection of comfortable swivel chairs. Several of our armchairs are available with swivel feet, with or without footstool and in the cover you like best.
A swivel chair is a classic piece of furniture that fits into most homes. A swivel chair provides a comfortable sitting experience and gives you great freedom to turn all the way around. A swivel chair follows your movements and provides the necessary flexibility.
Would you like to try our recliners before you buy?
It is important that you choose the right recliner with the right measurements and in the right size. It is therefore a good idea to try our chairs at one of our many dealers, so that you get a chair that is built especially for you and your goals. You are welcome to visit our dealers and try out the models you like best. You can try everything from an electronic recliner to our rocking chairs.
Recliners
Recliners are associated with coziness and comfort and are the perfect recliner for all ages. Regardless of what your needs are, we have an armchair for you in a modern and Danish design with quality leather or fabric cover.
Our wide range of Danish recliners is available with a myriad of convenient functions for extra comfort, recliner with built-in footstool, recliners with and without matching separate footstool - and all chairs are available in different materials, which can be chosen in a myriad of colours, so that you can get your favorite chair in your favorite color and material.