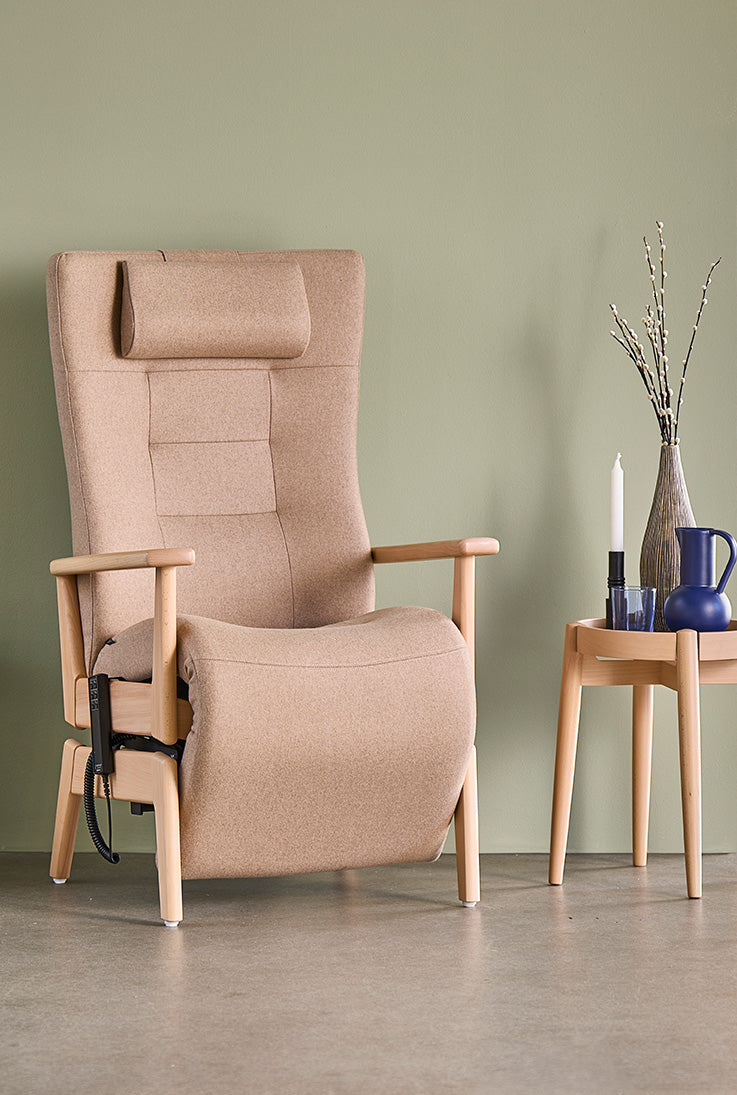 Function chairs with ergonomic adaptation
at the Danish hospitals, care homes and not least your home.
Many people consciously or unconsciously sit down for many hours a day. You can therefore benefit greatly from trying one of our multi-chairs, which offer special advantages for those who need extra relief in everyday life. It can have major consequences in the long term if we don't have the right chair. Our ergonomically adapted function chairs are therefore the obvious choice to reduce the strain on your body. If you tend to sit bent forward, we also have adaptation options to remedy this.
We know that it can be difficult to sit down properly when we get older - and even more difficult when we have to get up again. A senior chair from Farstrup helps you with all the classic problems with good comfort and an electric seat lift that helps you get out of the chair.
In addition to fantastic sitting comfort, we can offer a large selection of quality leather and fabric materials, wood type, frame color, upholstery color and various accessories. Regardless of whether you have difficulty walking or have problems getting out of the chair, our function, multi- and senior chairs are a perfect match for you who want high comfort and maximum support for the whole body.
Senior furniture with practical functions
A unique and individual senior chair requires consideration of which functions you want for your new chair. At Farstrup Furniture, we have a wide selection of luxurious senior chairs with plenty of customization and function options. You can e.g. get senior chairs with a seat lift, a support function that helps when you have to get up from the chair. Senior chairs with a motor that adjusts the backrest electronically to achieve optimal sitting comfort. In addition, add-on options such as e.g. gentle pillow, inflatable lumbar support, etc. If you don't know which chair is right for you, you can read our guide to finding the right recliner here .
Maximum relaxation in comfortable senior chairs
At Farstrup Furniture, we have an eye for detail, because we care about you getting a senior chair that you can use for many years. With high quality, beautiful design and focus on materials and details, you are sure to get a chair of unrivaled quality with long durability. We focus on well-being, and so does your body. Invest in a senior chair that embraces you for many years to come.
We make senior chairs in quality wood, in oak and beech. They are available in both black and light stains, with the option of quality fabric and leather in different colours. Our wide selection of chairs gives you plenty of opportunity to find the right chair, whether you are looking for a discreet chair for the corner of the living room, or a comfortable chair to build the interior around.
Functional chairs
We adapt our senior chairs to your goals, your preferences and your physical condition. Useful functions include: height adjustment, electric seat lift, seat depth, electric backrest, adjustment via remote control, footrests, wheels, extra support and fold-down armrest.