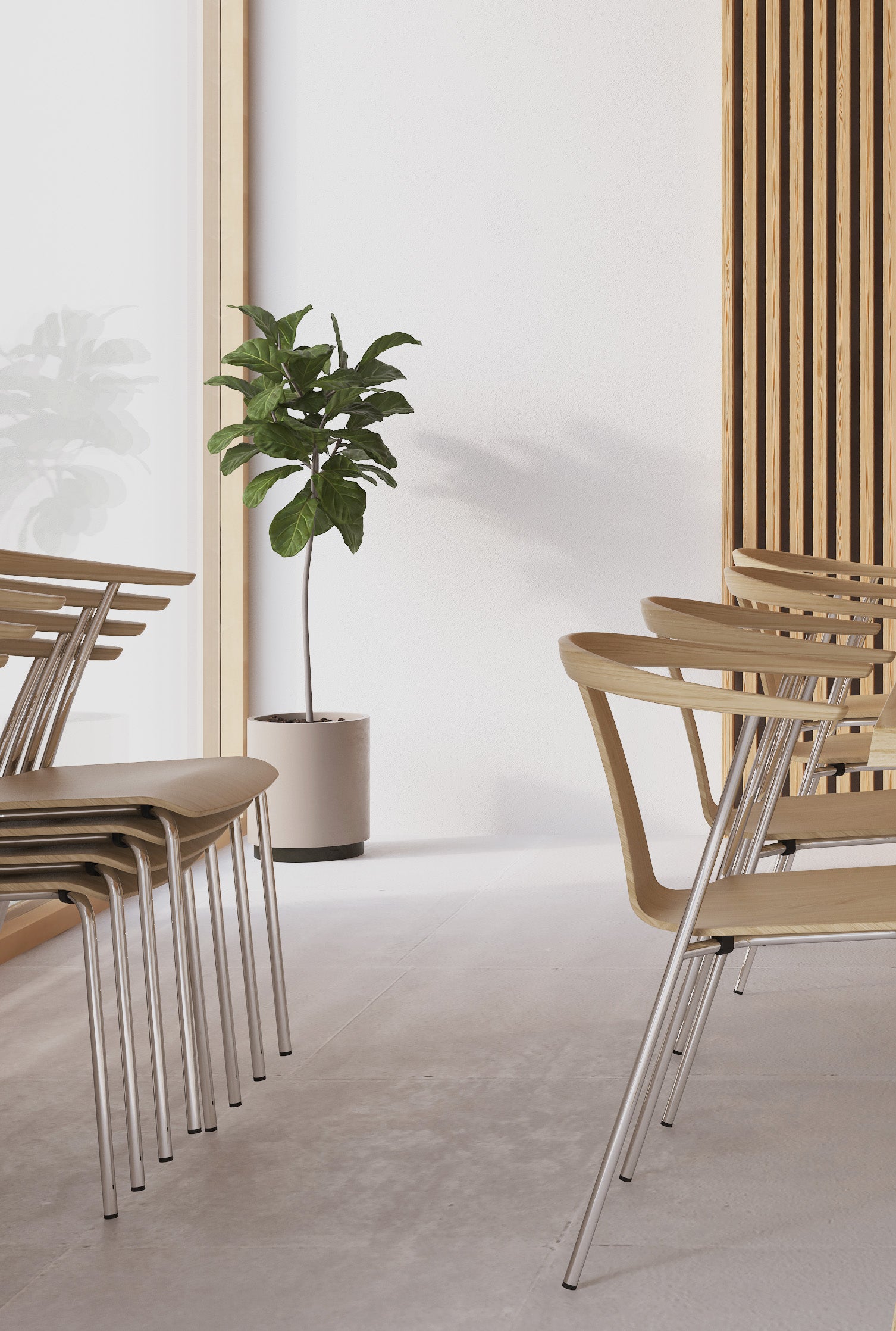 Practical stackable chairs in a nice design
Larger gatherings naturally require a large amount of chairs, but what to do with all the many chairs after the event? That problem becomes much less with our stacking chairs - store many chairs in a small space.
Stacking chairs are available in many variations, shapes, styles and materials. The advantages are indisputable, and therefore it is largely about solid furniture design. Stackable chairs are available for many different purposes. In addition to conferences, lectures, etc. which often require many chairs, you can get stackable chairs such as garden chairs, cafe chairs, wooden chairs and much more. The typical places you find stacking chairs are for conferences and lectures, where the chairs are lined up side by side.
Stacking chairs don't have to be black
When you come across stacking chairs, they will often be black. But they don't have to be. The black chair can be nice and discreet, but if you are looking for a fresh and bright piece of furniture, it can easily be in the form of a stacking chair. We make them in both dark and light wood, so no matter what you're into, you can find the right chair in our range.
Stacking chairs are available in as many price ranges as they are available in different variants. Wooden chairs will usually be more expensive than plastic chairs. On the other hand, you get a better design and much better comfort with a wooden chair. In which contexts do you need stacking chairs? If it's for the garden party, a classic plastic chair can usually do the job well. If it is for a nicer arrangement, a nicely designed wooden stacking chair will be the best choice.
Conference chairs and meeting chairs in a nice design
Farstrup's conference chairs are made in high quality with a nice design and maximum sitting comfort. We are aware that when you are at a conference, you have to sit down for a very long time. It is therefore important that your conference chairs - or meeting chairs - have good sitting comfort.
All our conference and meeting chairs are upholstered to provide the best possible seating comfort for both you and your guests, so that it remains comfortable to sit down all day. Our stacking chairs can be used for almost anything due to their classic and timeless design, so whether you have a meeting room, waiting room or something else entirely, Farstrup's stacking chairs are a safe choice. Read more about conference chairs and meeting chairs here .
Classic canteen chairs
Our classic canteen chairs are handmade from quality wood and are available in many beautiful colors both with and without armrests. A canteen chair must be easy to clean and not least durable, which are exactly the trademarks of our classic canteen chairs. The chairs are stackable, and are therefore easy and faster to transport, move or store.
Our classic chairs are luxurious canteen chairs, which will typically be used in private homes, in restaurants, in hospitals and in care homes, but can be used wherever you think they fit. We know that our stacking chairs, conference chairs and canteen chairs are used for many different things. We therefore have several different designs, colors etc. so that you can find a chair that suits your purpose.
Did you find what you were looking for? See our armchairs , functional chairs or dining table chairs
Stacking chairs
Stackable chairs are really practical chairs because – as the name suggests – they can be stacked. It's smart because the chairs take up less space and are therefore perfect if you need a lot of chairs to put away after use.
At Farstrup Furniture, stacking chairs are not just a boring chair. We have chairs in many designs in the best types of wood, which provide good durability. High sitting comfort is a matter of course with all our furniture, and it is no different with our stackable chairs. You can choose between beautiful fabric and leather covers that are soft and comfortable to sit on. A padded seat in quality foam on a stacking chair is an added luxury and contributes to good sitting comfort.